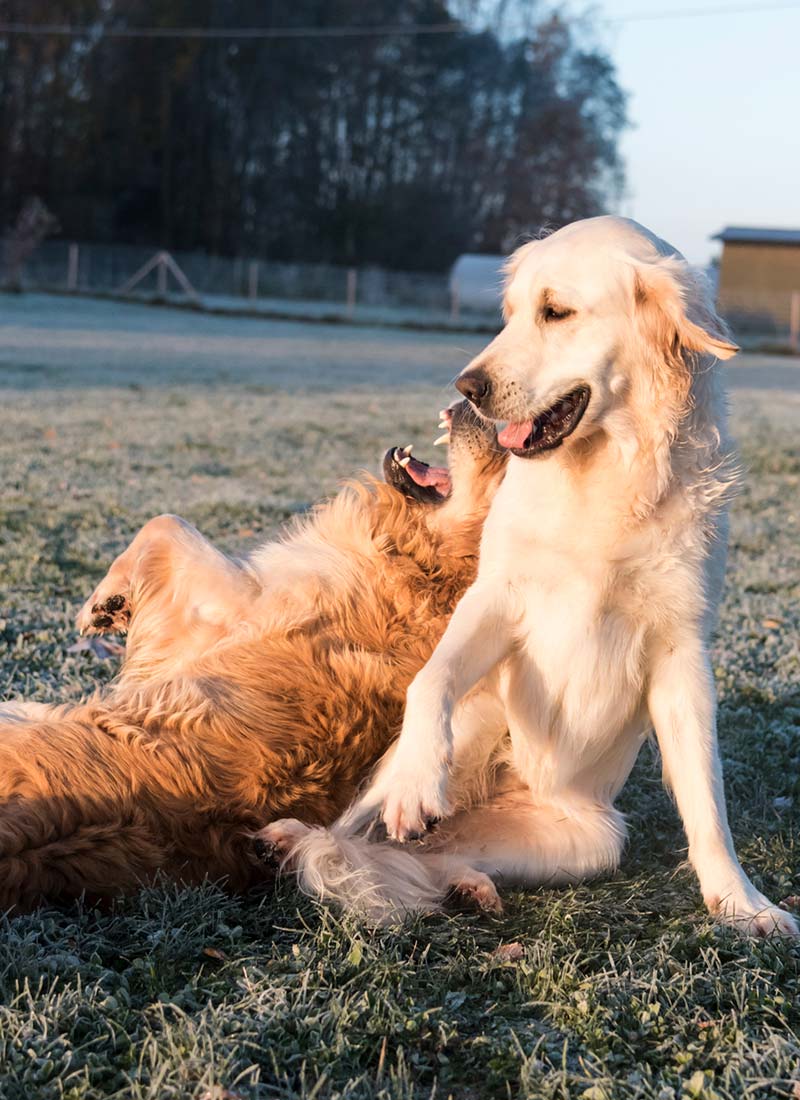 DOGGIE DAYCARE
$32.50 Full Day / $22.50 Each Additional Dog
DISCOUNTED PACKAGE PRICING
10-Day (Single-Dog) $293
20-Day (Single-Dog) $585
10-Day (Two-Dogs) $495
20-Day (Two-Dogs) $990
*Packages do NOT expire. However, packages are NON-Refundable.
Treat your dog to a group play environment at Doggie Daycare. The program is a way for you to leave your dog for the day completely guilt-free. No more worrying about potty breaks, outside time, or behavioral issues.
Give your dog the chance to play in a secure and supervised environment.
Your dog will have:
Multiple potty breaks throughout the day
Lots of exercise and socialization with other dogs
A clean, safe, and supervised environment
Expert supervision from quality staff
Carefully evaluated dogs
Professional trained, animal-loving staff
Quiet time
Your dog is never alone, bored, or getting into trouble
WHAT TO EXPECT
QUESTIONS AND ANSWERS ABOUT DOGGIE DAYCARE
What are the benefits of Doggie Daycare?
At Training Tails, dogs can unwind and play in a safe environment. Dogs are naturally social animals, so staying home alone can be detrimental and cause behavioral issues.
Doggie Daycare gives dogs free rein to play, exercise, and remain active under careful supervision in a safe environment. While the dogs simply enjoy their playtime, the exercise and stimulation help manage behavioral problems, separation anxiety, boredom issues, and even assists with weight management.
What's required of my dog to attend daycare?
12-weeks or older
Spayed or neutered, if your dog is 7 months or older
Current on all shots, DHLPP, BORDATELLA, PARVO, RABIES
On some form of Flea and Tick Program (no powders)
Have a quick-release collar (we have them available at the office)
Take and Pass an Evaluation Test
SAFETY FIRST
DOGGIE DAYCARE EVALUATION PROCESS
---
The safety of all the dogs is paramount to our facility. All dogs will be screened before being admitted to daycare. We require that all participating dogs are healthy and up to date with all shots as well as flea and tick treatments. All dogs are assessed for temperament to confirm compatibility with the group.
Whether you worry about your dog needs to relieve himself while you're gone, behavioral issues stemming from boredom, separation anxiety, or a lack of socialization, Training Tails Doggie Daycare is a means to an end of those worries. Start your day with off with peace of mind. Dropping your dog off at daycare means no more fearing coming home to the consequences of a dog that's been left alone.
LET TRAINING TAILS KEEP YOUR DOG HAPPY WHILE YOU WORK
---